Tencia Add-Ons (also known as the Tencia Ecosystem)
The evolution of the Tencia Ecosystem has been a result of over ten years of research and refinement. As Tencia and other companies open up their software to each other they find themselves in an ecosystem collaborating to bring massive solutions to the marketplace.
Archer Technology Group, in conjunction with its partners, has created a world-class list of software add-ons that contains CRM, Mobile Solutions, E-Commerce Shopping Carts, Time and Attendance, Payroll Kiosks, and Business Intelligence.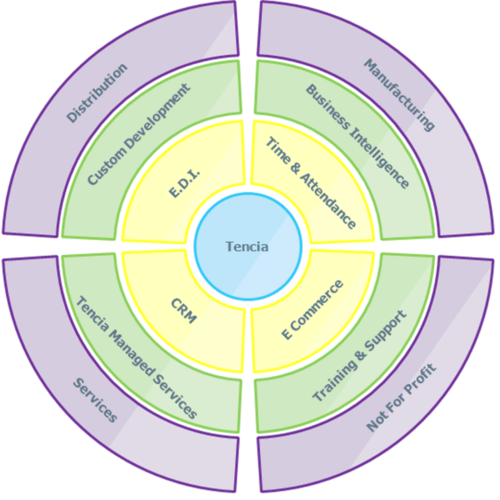 ZOHO CRM
Zoho CRM is an online Customer Relationship Management (CRM) software for managing your sales, marketing & support in a single system.
Tencia Mobile Sales
Mobile Sales is a cloud-based consumer goods CRM solution designed specifically for mobile sales and merchandising teams.
Read More
Tencia BI
Microsoft Power BI Desktop puts visual analytics at your fingertips. It combines state-of-the-art interactive visualisations, with industry-leading data query and modelling built-in. With over 250 custom made dashboards, charts, and tables, Tencia BI has something for everyone.
Tencia Employee Portal
Tencia Employee Portal is a cloud-based web-ready Kiosk application that allows your staff to self serve for leave requests, reprint of pay advice (pay slips) and a whole lot more. Totally secure, this application will free up hours of your HR time from repetitive tasks.
Tencia Time and Attendance
We provide a range of sophisticated time & attendance systems & data collection time clock devices to effectively help with tracking your employees.
Arrow Tool Box
A comprehensive list of pre-written reports. If you have a specific reporting requirement then we can build it for you.
Crystal Reports
Crystal Reports allow individual users as well as Small and Medium-sized businesses to leverage a scalable on-premise Analytics tool.